There is almost nothing that sounds better than a delicious slow cooker cookie that you can sink your teeth into.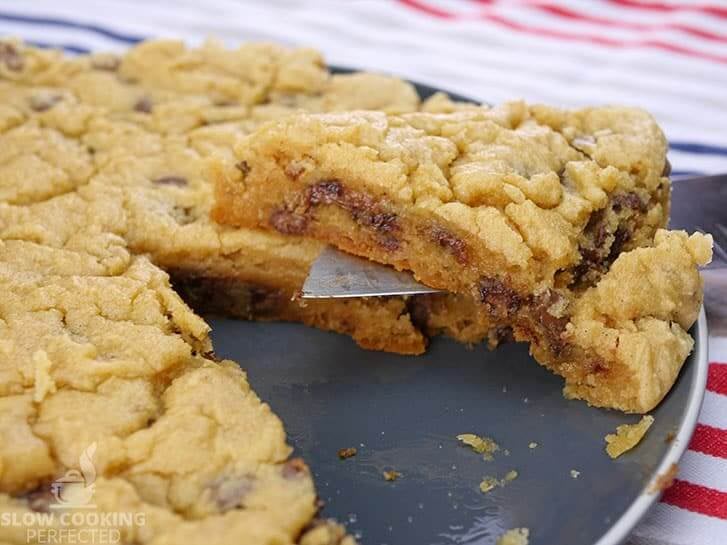 The gooey chocolate chips and the sweet cookie batter makes this dessert hard to say no to. By the end of cooking, you will be left with a slightly soft, rich chocolate chip cookie that both tastes and looks fantastic. It's an absolutely delicious dessert.
There are many sweet desserts that you can do in the slow cooker, and this cookie is probably one of the more unique desserts. With that said, you can also eat this for breakfast if you want something sweet and easy.
How to Serve This Giant Cookie
This giant cookie is full of delicious gooey bits of chocolate chips, so it's perfect for dessert.
You're able to eat this dessert on its own without any extras. However, I love to serve it in a bowl with a scoop or two of ice-cream. Regular cream is also pretty good drizzled over the top.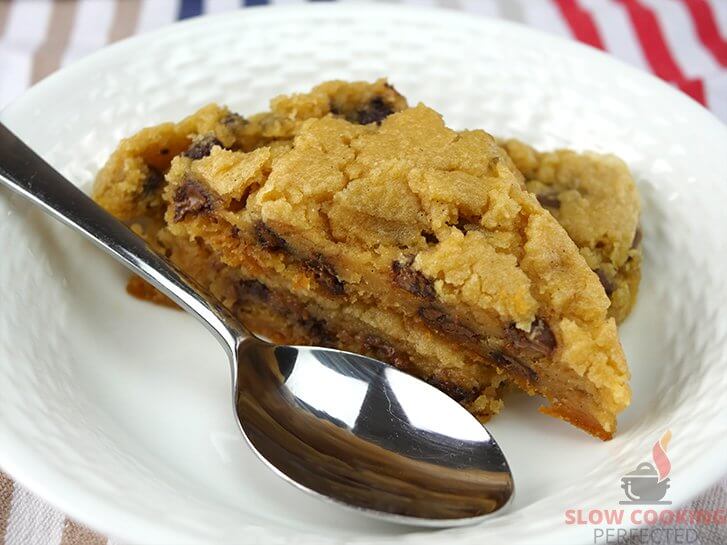 You can also let the cookie cool and eat it like a piece of cake. If you want a chocolate drink to go with the cookie, then you should consider making a lovely hot chocolate.
There are lots of ways that you can serve this delicious dessert, so if you have any ideas, be sure to let us know.
Tweaking the Cookie Recipe
There is actually a surprising amount of alterations that you can make to this recipe. Below are just a couple of my suggestions on how you can personalize this recipe.
A range of chopped nuts will add both crunch and flavor. For example, something like chopped walnuts and some slivered almonds will add both a different texture and flavor to this delicious dessert.
Swapping the chocolate chips with M&Ms is an excellent way of adding a bit of crunch along with a ton of color. Perfect if you want everyone to get excited about eating this cookie.
Of course, there is lots more that you can do with this cookie, and these are just a couple of suggestions. Let us know if you have any suggestions.
What to do with Leftovers
Leftovers of this cookie are great the next day and perfect in the lunchbox, so make sure you won't be throwing out any food that didn't get eaten.
Also, being a cookie, you can keep it out of the fridge. You can eat it cold, or you can heat it in the microwave so that the chocolate is lovely and gooey.
Right below, you can watch a video that will take you through all the steps to making this delicious giant cookie in the slow cooker. You can find the full written recipe right underneath the video.
Slow Cooker Cookie Recipe
Ingredients
125 g (4.4 oz) unsalted butter, room temperature
½ cup brown sugar
½ cup sugar
1 Tbsp vanilla essence
2 eggs, room temperature
2 cups self-rising flour
¼ tsp salt
1 cup chocolate chips
Instructions
Grease and line a slow cooker with baking paper.
In a bowl, cream the butter, sugar, and vanilla essence.
Next, beat in the 2 eggs until well combined.
Add the self-rising flour, salt, and mix until well combined.
Gently mix in the chocolate chips
Place the cookie dough into the slow cooker and spread until it's nice and smooth.
Cook on low for 4 hours. Leave the lid slightly askew for the last 30 minutes.
Remove from the slow cooker, then either eat warm or allow to cool.
Serve & Enjoy.
Recipe Tips
If the eggs are straight from the fridge, then the mixture might split when you beat it with the eggs. It doesn't matter if this happens, so continue with the recipe.
Chopped walnuts can be added to the cookie if you want a bit of a nuttier chocolate flavor. I would add roughly one cup of chopped nuts.
If you're unsure that the giant cookie is ready, then use a cake skewer to check. If it comes out clean, then you're all good.
Keep in mind different brands of slow cookers tend to cook differently. Keep an eye on it if you're worried about it burning or overcooking.
Note: I use a 5.5L (6 Quart) slow cooker for all the recipes that I have on this website unless specified. If you have a smaller or larger slow cooker, then you might need to adjust the ingredients.
Nutrition Information
Serving Size: 192g (6.8 oz)
Servings Per Recipe: 4
Calories Per Serving: 783
Amount Per Serving
Saturated Fat: 22.2g
Trans Fat: 0g
Dietary Fiber: 7g
Sugars: 40g
Cholesterol: 116mg
Sodium: 950mg
Protein: 15g
The information above is an estimate generated by an online nutrition calculator.
More Slow Cooker Dessert Recipes
Chocolate recipes are always a personal favorite of mine, so I have a couple more that you might enjoy.
If you want another tasty dessert that has an abundance of chocolate, then be sure to check out the rich self-saucing chocolate pudding or the decadent chocolate brownies.
A dessert that's really rich in chocolate, and I highly recommend that you try is the chocolate fudge. It's super easy, and the result is absolutely delicious. Be careful tho as you might become addicted to the fudge.
I really hope that you love this slow cooker cookie and that it cooks out to be as great as it was for me. If you have any improvements or feedback related to this recipe, then please don't hesitate to leave a comment below.