Slow cooker fudge is an incredibly easy to make snack that doesn't require you to spend ages in front of a stove. Instead, it will slowly melt, requiring you to only stir it every 15 to 30 minutes.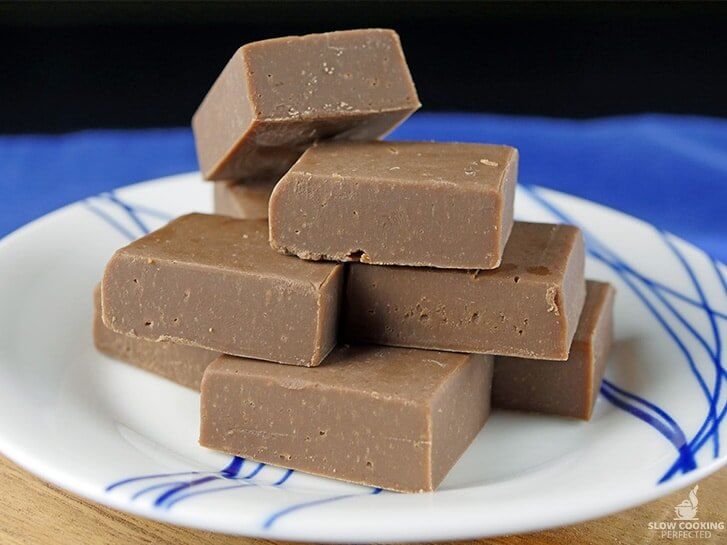 This fudge is so easy it's a great dish to get the kids involved with the preparation. You only need to weigh out a few ingredients and put them in the slow cooker. Simply stir every 15-30 minutes until it has completely melted. You can let it set in the slow cooker, or you can transfer it to a lined pan.
It may sound bizarre at first, but cooking something like fudge in a slow cooker makes a lot of sense. The gentle heat of a typical modern slow cooker will help prevent any burning resulting in a smooth chocolate mix that you can then transfer to a slice pan to cool in the fridge.
Enjoy your Fudge
There is nothing like sitting back after a long day with a nice warm chai latte and eating some gooey delicious chocolate fudge. One great thing about this recipe is that if you don't eat it all straight away, then it will keep in the fridge for about a month.
This fudge is great as party food, snack, or even as a dessert. I love having some fudge stored in the fridge so I can quickly grab some if people pop over and need something delicious to snack on.
Variations to Try
There are so many slight variations that you can make to this recipe. Some changes will radically alter the fudge and offer a unique flavor. I will quickly go through some of my favorite additions.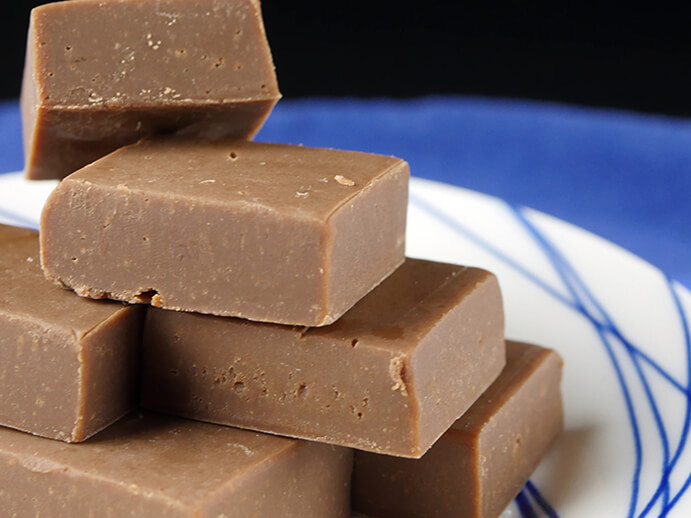 For a bit of crunch and extra color, you can try adding some M&Ms into the fudge mix. Add the M&Ms at the end of cooking to avoid having them melt too much. You can also sprinkle some over the top for an even better color.
Nuts are yet another tasty ingredient that you can add into the fudge mixture. For the best combination, I recommend adding some chopped walnuts, peanuts and of course some hazelnuts. However, most nut combinations will likely come out tasting delicious.
Storing your Chocolate Fudge
The best place to store the fudge is in a sealed container and in the fridge. If you need to stack the fudge, then make sure you use separate it using some parchment to help stop it from sticking together.
The fudge should last for a week or two in the refrigerator. Alternatively, you can freeze the fudge for later, but I recommend avoiding that.
If you want to see how to do this chocolate fudge in the slow cooker, then be sure to check out my video below, it's short and straight to the point.
Slow Cooker Fudge Recipe
Ingredients
400 g (14.1 oz) chocolate chips (Milk or dark chocolate)
400 g (14.1 oz) sweetened condensed milk
1 tsp vanilla essence
15 g (0.5 oz) unsalted butter
Instructions
Prepare an 8X8 Pan by greasing and lining it with baking paper
Place all the ingredients in a slow cooker.
Turn the slow cooker to low and leave the lid off.
Cook for one hour, stirring every 15-30 minutes.
Once done, pour into the lined tin.
Place in the fridge for at least 2 hours.
Once set cut into squares and enjoy!
Recipe Tips
You should leave the lid off when you're cooking the fudge as you don't want any water or condensation to fall into the fudge mix. Any water can cause the fudge to split, go a weird consistency or go that horrible grainy texture.
You're able to use a combination of dark and milk chocolate if you want to mix it up a bit, I would merely go half and half.
Using a hot knife will make cutting the fudge easy. You will get nice clean cuts while avoiding deforming the fudge. You may need to reheat the knife after every second cut.
You can swap the vanilla essence out for something else such as an orange or mint extract. This extra will change the flavor of the fudge to something that you might like even more. Feel free to experiment with the many different types of flavorings out there. You could come up with something truly amazing.
Note: I use a 5.5L (6 Quart) slow cooker for all the recipes that I have on this website unless specified. If you have a smaller or larger slow cooker, then you might need to adjust the ingredients.
Nutrition Information
Serving Size: 31g (1.1 oz)
Servings Per Recipe: 30
Calories Per Serving: 136
Amount Per Serving
Saturated Fat: 4.5g
Trans Fat: 0g
Total Carbohydrate: 17.2g
Dietary Fiber: 0.6g
Sugars: 15.9g
Cholesterol: 9mg
Sodium: 33mg
Protein: 2.3g
The information above is an estimate generated by an online nutrition calculator.
Other Slow Cooker Recipes to Enjoy
You're also able to do a very similar version of this chocolate fudge recipe in the microwave. The end result is roughly the same, but it really just comes down to what cooking method you prefer.
There are plenty of other chocolate dishes that you're able to cook up in the slow cooker. For example, one of my favorites is the delicious chocolate brownies. These brownies come out incredibly rich and gooey, and they also go fantastic with some vanilla ice cream.
I hope you enjoy this slow cooker fudge recipe! If you have any feedback or have an amazing variation that you want to share, then please don't hesitate to leave a comment below.