Back to Recipe
Print Recipe
Slow Cooker Applesauce Recipe
---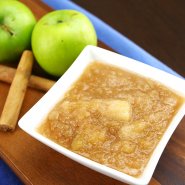 Prep time: 15 Minutes
Cook time: 6 Hours
Total time: 6 Hours & 15 Minutes
Serves: 18
Ingredients
2 kg (4.4 lb) apples, cored, peeled, and cubed
¼ cup sugar
2 cinnamon sticks
½ cup water
1 Tbsp lemon juice
---
Instructions
Add all the ingredients to the slow cooker and cook on low for 8 hours
Remove the cinnamon sticks.
Using an immersion blender, blend the ingredients until you get the consistency you want. You can skip this if you prefer chunky applesauce.
Serve & Enjoy.
---
Recipe Tips
To store the applesauce in the cupboard, you will need to seal it in a jar correctly first. This handy guide will take you through the steps to correctly store the sauce in a jar so that it is sterilized. If done correctly, the sauce will last a lot longer and can be stored in the fridge or cupboard.
You do not have to peel the apples. The most significant difference is the texture as you will have bits of apple skin in your sauce.
If you prefer things to be more on the sweet side, simply increase the amount of sugar to half a cup. You can probably go up to a cup, but to be safe, I would stay at half a cup. On the flip side, you can just leave the sugar out altogether.
Do not puree the apples if you want chunky slow cooker applesauce.
Reduce the time by half and turn the slow cooker to high if you need to cook this faster.
Did you make this recipe?
We want to see! Tag
@slowcookingperfected
on Instagram or use the hashtag
#slowcookingperfected
so we can find you!
---