Back to Recipe
Print Recipe
Slow Cooker Sticky Date Pudding
---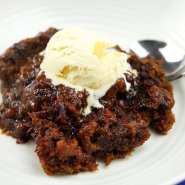 Prep time: 30 Minutes
Cook time: 4 Hours & 30 Minutes
Total time: 5 Hours
Serves: 6
Ingredients
250 g (8.8 oz) pitted dates, chopped
1 tsp baking soda
300 ml (10.1 fl oz) boiling water
100 g (3.5 oz) unsalted butter, softened
1 tsp vanilla essence
200 g (7.1 oz) brown sugar
2 eggs at room temperature
375 g (13.2 oz) self-rising flour
Sauce
150 g (5.3 oz) brown sugar
80 g (2.8 oz) golden syrup
750 ml (25.4 fl oz) boiling water
---
Instructions
In a bowl, combine the dates with the baking soda and boiling water.
In a different bowl, add the butter, sugar, vanilla and beat together until light and fluffy.
Beat in the eggs one by one until well combined.
Add the flour, dates (including the water), and mix until well combined.
Lightly grease a slow cooker and pour in the sticky date pudding mix.
On top of the pudding mix, scatter the brown sugar and golden syrup.
Slowly pour in the boiling water.
Cook on low for 4 hours.
Serve & Enjoy.
---
Recipe Tips
To avoid having the eggs and butter split, make sure both your butter and eggs are at room temperature. If they do split, then do not be afraid to continue, there will be very little difference at the end of cooking.
You can make this sticky date pudding gluten-free by merely exchanging the self-rising flour for a gluten-free version.
If you do not like chunks of dates in your puddings, then you can blend the date mix before adding it to the flour.
You can make this pudding in the slow cooker without the sauce. However, it might not be nearly as moist and gooey.
The golden syrup can be replaced with honey or something similar. Be careful of molasses as it can be quite bitter.
Did you make this recipe?
We want to see! Tag
@slowcookingperfected
on Instagram or use the hashtag
#slowcookingperfected
so we can find you!
---