This delicious slow cooker chicken korma uses a curry paste made from scratch and is incredibly delicious. If you love a good tasting curry, then you certainly need to give this one a try.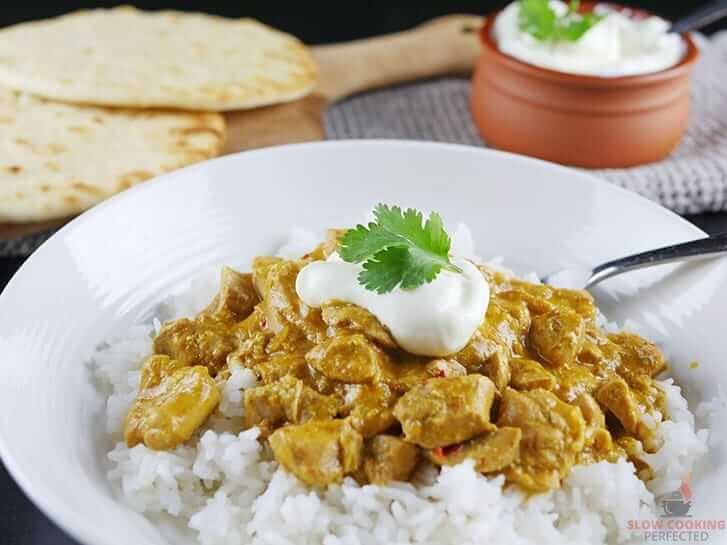 Korma curry is part of Indian cuisine but can be found in restaurants across the world. It's a delicious curry that typically has meat, vegetables, and either cream or yogurt. This slow cooker version is absolutely delicious and is a must-have.
While this curry is likely not super authentic, it is still however delicious and likely to feed a crowd of hungry people. A single batch of this recipe should feed roughly six people, but this depends on any side dishes that you have with it.
Accompaniments to go with Korma Curry
As with any curry, this goes amazing with some rice and naan bread. If you're not feeling like either of those, then the curry is still great just by itself.
Papadums are a cracker-like food that originated from India. They're excellent with curry, and I highly recommend that you give them a try. I love eating my papadums with some rice and curry.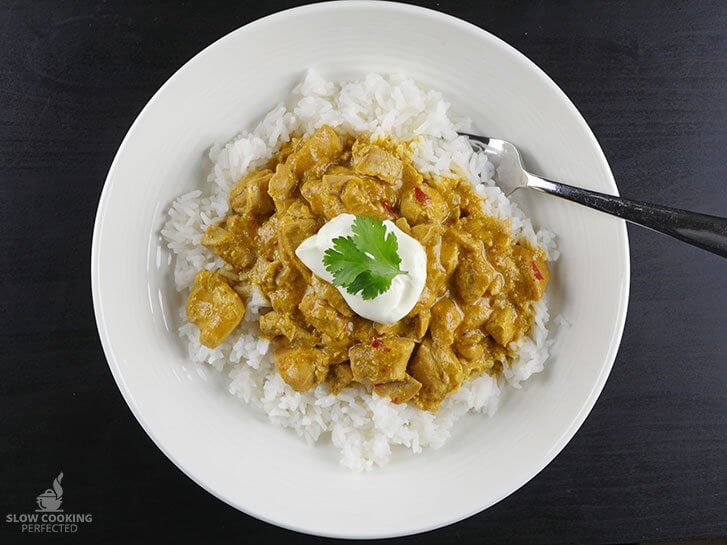 If you're thinking of experimenting a little, then you could always try potato mash, cauliflower rice or even polenta.
Also, feel free to let us know any of your favorite side dishes to have with a korma curry.
Using a Jar Sauce
If you don't have the ingredients required to make the paste from scratch, then a jar sauce will work just as well. I would use something like Patak's korma paste or sauce, but other brands will work just as well.
Check the instructions on the jar to make sure your quantities are correct. Also do not add the spice mixture, chicken stock, and the coconut cream if you're using a jar sauce. However, some jar sauces will require coconut cream, so be sure to check.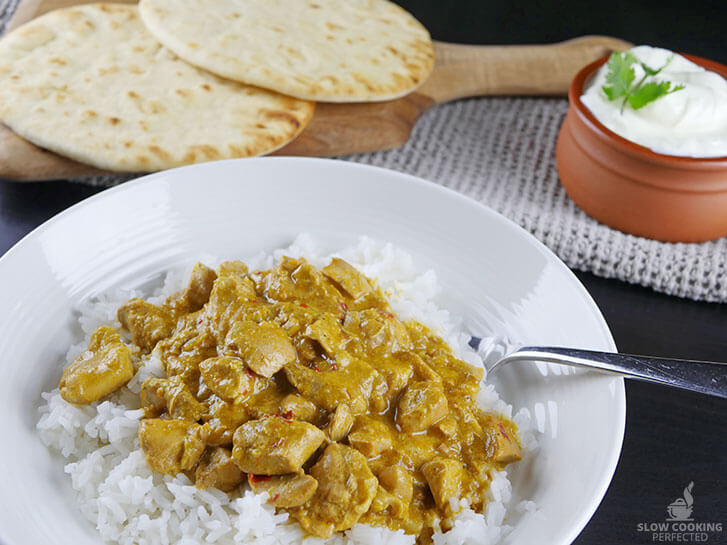 The positive side of using a pre-prepared sauce is that it will make this chicken korma curry even easier.
Keep any Leftovers for Lunch
The leftovers for this dish will heat well, so make sure you keep them. They make for a delicious lunch the next day, and if you have a microwave or stove-top, you can use that to reheat the curry.
I would not keep the leftovers for more than a few days unless you freeze it. If frozen, the curry should last a couple of months before it starts to degrade.
If you want to see how to do this chicken korma curry in the slow cooker, then be sure to check out the video below. It takes you through all the steps to getting this dish prepared and cooking.
Slow Cooker Chicken Korma Recipe
Adblock removing the video? Support us by going ad-free or whitelist us in your ad-blocker.
Ingredients
1 kg (2.2 lb) chicken breasts or thighs, cubed
2 Tbsp ground almonds
400 ml (13.5 fl oz) coconut cream
½ cup chicken stock
Spice Mix
1 onion, diced
1 Tbsp ginger, crushed
2 tsp garlic, crushed
1 Tbsp chili paste
1 tsp cayenne pepper
1 tsp garam masala
1 tsp turmeric, ground
2 tsp cumin, ground
2 tsp coriander seeds, ground
1 Tbsp tomato paste
Instructions
In a fry-pan over high heat, add 1 Tbsp oil.
Once the oil is hot, add the onion, garlic, ginger, chili, cayenne pepper, garam masala, cumin, turmeric, coriander seeds, and the tomato paste. Cook until fragrant. (2-3 Minutes)
In a slow cooker, add the cubed chicken, the spice mix, ground almonds, coconut cream, and the chicken stock.
Cook for 6-8 hours on low.
Serve & Enjoy
Recipe Tips
If you do not have the time to make the korma curry paste from scratch, then you can easily substitute this with a jar curry paste bought from the supermarket. There are plenty of brands around, but personally, I would recommend Patak's curry paste.
Chickpeas are a fantastic addition to a good korma curry. If you love these, then I highly recommend adding them to the dish. Add these at the same time you add everything else into the slow cooker.
If you're finding the curry a little too thin at the end of cooking, then try adding a cornstarch and water mixture. Two tablespoons of cornstarch with a little bit of water should be more than enough to thicken the sauce.
Almond meal is the same as ground almonds or almond flour. So don't stress if you don't have the exact same ingredients.
Note: I use a 5.5L (6 Quart) slow cooker for all the recipes that I have on this website unless specified. If you have a smaller or larger slow cooker, then you might need to adjust the ingredients.
Nutrition Information
Serving Size: 284g (10 oz)
Servings Per Recipe: 6
Calories Per Serving: 506
Saturated Fat: 17.9g
Trans Fat: 0g
Dietary Fiber: 2.7g
Sugars: 3.6g
Cholesterol: 149mg
Sodium: 237mg
Protein: 51.1g
The information above is an estimate generated by an online nutrition calculator.
More Curries Worth Trying
If you like this dish and looking more curries that you can do in the slow cooker, then the amazing slow cooker butter chicken might interest you. Much like this dish, it too uses a homemade curry paste instead of a store-bought jar version.
There are also plenty of beef curries that you should give a try. I highly recommend the beef madras curry as it's packed with flavor and so easy to get right.
I hope that you enjoy this incredible test slow cooker chicken korma recipe as much as I did. Don't forget to check out the cooking tips above for any advice on perfecting this slow cooker dish.
If you have any tips, feedback, or anything else that you would like to share, then please feel free to leave a comment below.