Back to Recipe
Print Recipe
Slow Cooker Mongolian Beef Recipe
---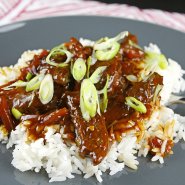 Prep time: 15 Minutes
Cook time: 6 Hours & 15 Minutes
Total time: 6 Hours & 30 Minutes
Serves: 4
Ingredients
500 g (1.1 lb) beef, sliced
1 tsp garlic, crushed
1 tsp ginger, minced
1 tsp red chili flakes
1/2 cup low sodium soy sauce
¾ cup beef stock
¼ cup brown sugar
¼ cup hoisin sauce
1 cup carrots, sliced or grated
Thickener
2 Tbsp cornstarch
2 Tbsp water
---
Instructions
Add the beef, garlic, ginger, red chili flakes, soy, beef stock, brown sugar, hoisin, and the carrots to the slow cooker.
Cook on low for 6-8 hours or on high for 4 hours.
Fifteen minutes before you go to serve, mix the cornstarch with 2 tablespoons of water. Once well combined, mix into the slow cooker and allow to cook for 15 minutes.
Serve & Enjoy.
---
Recipe Tips
As I mentioned above, make sure you use a tough piece of beef for the best results.
If you do not like your food spicy, then leave the chili flakes out. The chili will give the dish a bit of heat but not enough to have you grabbing the nearest glass of water.
Try to avoid full sodium soy sauce as you may find the dish a bit too salty for your liking if you end up adding it. If regular soy is all you have, then half the amount and make up for the missing amount with some water.
For the best results, use beef stock instead of just plain water. You can use powdered, fresh, carton, or any other type of beef stock that you have around. It does not matter what type you go with, so do not worry about changing the amount you use.
If you love things on the sweeter side, you can try increasing the amount of brown sugar to three-quarters of a cup.
You can leave hoisin out of the sauce, but it is an essential ingredient for getting the best experience of this dish.
Did you make this recipe?
We want to see! Tag
@slowcookingperfected
on Instagram or use the hashtag
#slowcookingperfected
so we can find you!
---