Making mulled wine in the slow cooker is the perfect way to heat and serve this delicious festive drink.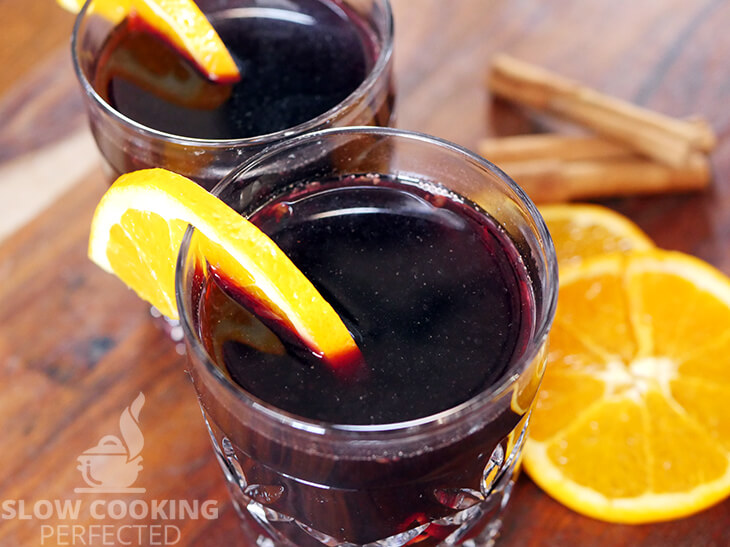 You might also know mulled wine by the name of spiced wine. It is made by warming some red wine with a variety of spices such as cinnamon, cloves, star anise, and more.
There are many different names for mulled wine, for example, in Germany, it is called Glühwein, or in Nordic countries, it is called glögg (glog). Other names include vin brulé (Italian), bisschopswijn (Dutch), vin chaud (French), and so many more.
Mulled wine is very popular at Christmas markets throughout central Europe. It's also the perfect Christmas drink to make in your slow cooker.
There are a gazillion different meals that go great with some spiced wine, but nothing beats a classic pot roast. It's the perfect Christmas feast that I highly recommend that you try.
This drink is alcoholic even after heating, so you might want to skip this drink if you don't like alcohol. However, you can make a nonalcoholic version with a slight change.
Adjusting the Recipe
There are lots of slight tweaks that you can make to this recipe. Below are just a couple of suggestions on how you can personalize this tasty drink.
Changing the spices will have a drastic impact on the final flavors of this drink. You can change the quantities for the spices currently in the recipe, or you can add more spices. A couple of shavings of nutmeg will add a bit more flavor, but be careful to not go over the top.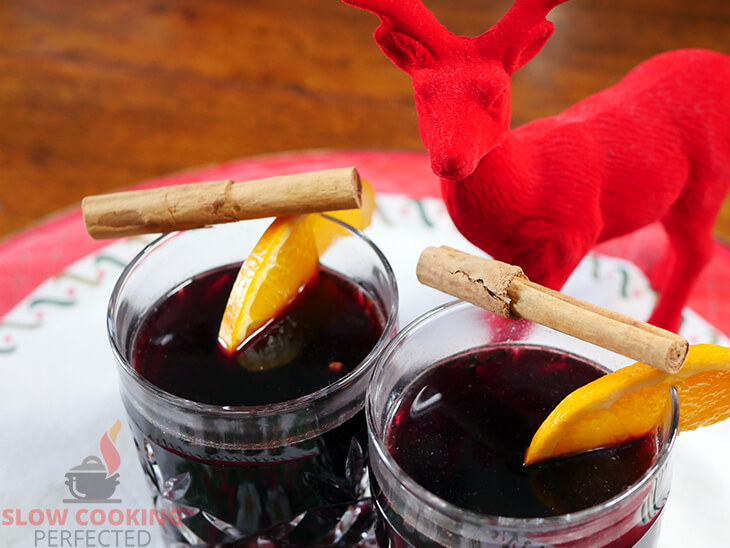 There are some mulling spice mixtures that you're able to buy. I prefer making things from scratch, but you can use a mix instead. Simply replace the cinnamon sticks, cardamom pods, cloves, and star anise with the mulling spice mix.
You can halve the amount of orange rind and add some lemon rind. This change will add a larger variety of flavor to the spiced wine. I haven't tried playing around with the citrus but I recommend experimenting a little.
More alcohol can be added to the wine. Some recipes add some brandy, ginger wine, or even apple cider. I would only add a small amount of brandy, but something like apple cider, I would add a lot more.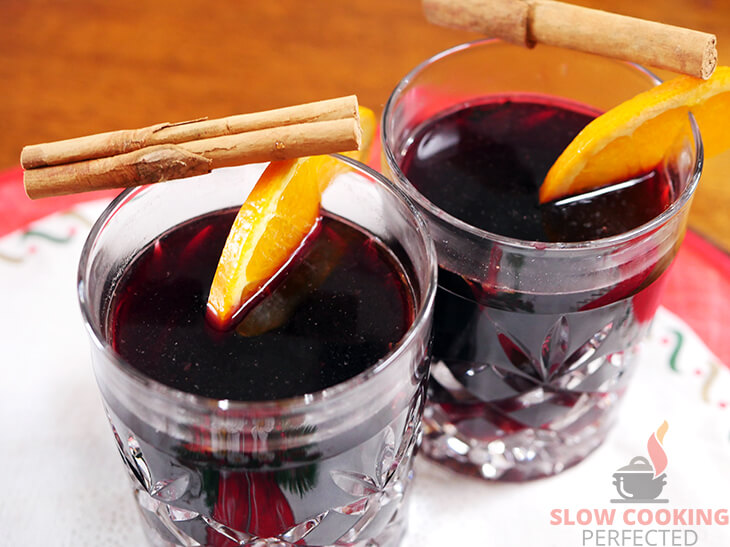 To make this mulled wine nonalcoholic you can use grape juice as a substitute. Alternatively, a mix of cranberry juice and apple juice will create a pretty tasty drink. I would aim for roughly a ratio of ¾ cranberry juice to ¼ apple juice.
Be sure to let us know of any changes that you made to the recipe by leaving a comment at the bottom of this page.
Making the Best Mulled Wine
To get the best mulled wine involves carefully choosing the spices that you add. For example, if you add too much cardamom, then it will overpower everything else.
Essentially it will be a trial and error, so start small and slowly add more if you feel like that particular flavor is too weak.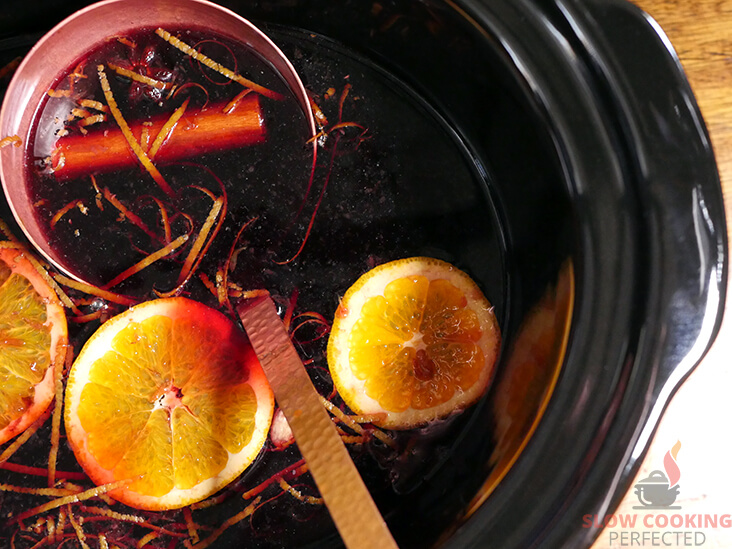 In some countries, Mulled wine is often paired with a creamy rice pudding. Typically the wine is drunk before eating the pudding. For the best experience, I recommend giving this a try.
Storing the Spiced Wine
If you don't need the mulled wine straight away or have leftovers, then you can keep it stored in the refrigerator for roughly a week or two.
Leaving the spices in with the wine will allow the spices to continue to infuse and add flavor. If you're happy with how the wine tastes, then I recommend removing the spices and zest before storing the wine in the refrigerator.
While you can drink spiced wine cold, it is recommended that you drink it warm. You can slowly heat the stored wine in the slow cooker or in a pot over the stove.
The video below will take you through all the steps to making some mulled wine in the slow cooker. Alternatively, there is the full written recipe right underneath the video.
Slow Cooker Mulled Wine Recipe
Adblock removing the video? Support us by going ad-free or whitelist us in your ad-blocker.
Ingredients
1.5 l (1.6 qt) red wine
100 g (3.5 oz) sugar
2 cinnamon sticks
2 cardamom pods, crushed
5 cloves
1 star anise
2 oranges, zested and juiced
Instructions
In a slow cooker, add the red wine, sugar, cinnamon sticks, cardamom pods, cloves, star anise, orange zest, and the orange juice.
Cook on low for 1 hour.
Serve & Enjoy.
Recipe Tips
To keep the mulled wine warm, turn the slow cooker to the keep warm setting. Alternatively, you can switch it between low and off to keep the wine warm.
The type of red wine that you use should not be sweet. Try to something like a merlot or cabernet sauvignon.
Don't hesitate to tweak the quantity of the spices to get the best-flavored drink for your taste buds.
A non-alcoholic wine can be used in place of the red wine. Grape juice, ginger wine, cranberry juice are all excellent substitutions for red wine.
Note: I use a 5.5L (6 Quart) slow cooker for all the recipes that I have on this website unless specified. If you have a smaller or larger slow cooker, then you might need to adjust the ingredients.
Nutrition Information
Serving Size: 285g (10.1 oz)
Servings Per Recipe: 6
Calories Per Serving: 97
Saturated Fat: 0g
Trans Fat: 0g
Dietary Fiber: 1g
Sugars: 21g
Cholesterol: 0mg
Sodium: 18mg
Protein: 2g
The information above is an estimate generated by an online nutrition calculator.
More Slow Cooker Wine Recipes
Wine is an excellent cooking ingredient, so there are quite a few recipes that make use of it. Below are just a couple of great recipes that you should try.
The poached pears in white wine are an absolute must-try if you like desserts. The long cooking time allows the flavors of both the pear and wine to infuse, leaving you with one tasty dessert.
For something savory, I recommend trying the beef bourguignon. It's a beef dish that has a lot of flavor from the red wine. It's an absolute must-try if you love hearty beef stews that taste as good as they look.
That's all I have to say about this slow cooker mulled wine recipe. I really hope that you enjoy the wine as much as I did. If you have some feedback, tips, or anything else, then please don't hesitate to leave a comment below.