This easy slow cooker French onion chicken is an excellent hearty dish that is packed full of flavor.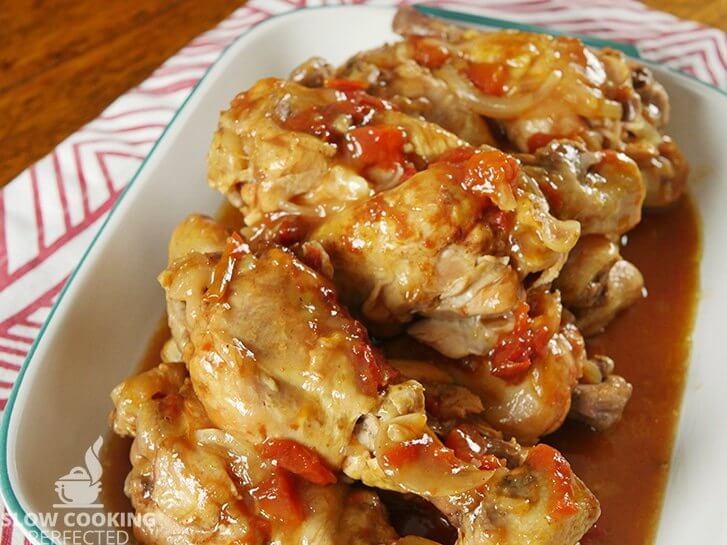 The flavors from the tomatoes, Worcestershire sauce, chicken stock, and French onion soup mix will infuse and produce a delicious sauce that goes great with the chicken drumsticks. Speaking of the chicken, it will be so tender that it will just melt in your mouth.
The steps to making this dish are super easy as you simply throw all the ingredients into the slow cooker and wait. It's the perfect chicken dish if you need to prepare something that will taste great.
Since the main star of this dish is the French onion soup mix, you will want to make sure you buy a quality brand if you want the best results.
What to Serve with French Onion Chicken
There are quite a few accompaniments that will work nicely with the French onion chicken. I mention a couple of my favorite side dishes below.
As you can imagine, rice goes amazing with these chicken drumsticks. I recommend cooking the rice separately in either a rice cooker or over the stove for the best results.
A lot of people like to melt Swiss cheese over the top of the chicken. I like the dish without any changes, but if the cheese idea sounds appealing, I highly recommend giving it a go.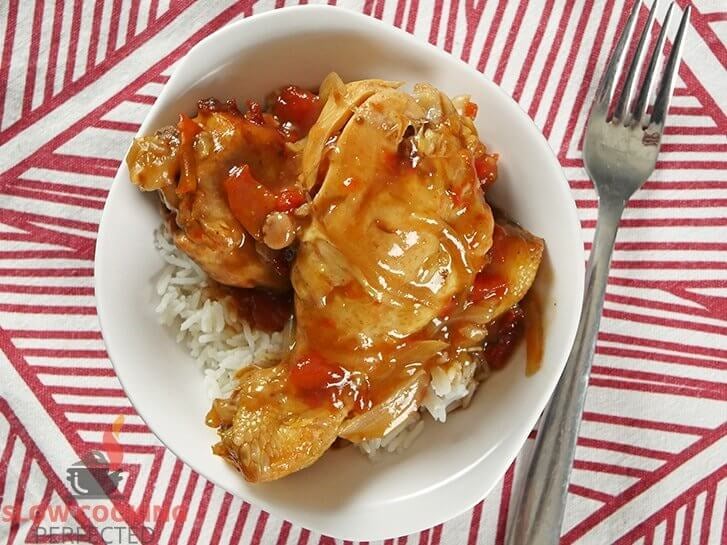 The chicken will also be great alongside some scalloped potatoes and some steamed vegetables. These side dishes require a fair bit of time in the kitchen, but they're well worth it.
There are plenty of other sides that go great with chicken. For example, a nice green salad, oven-baked chips, or even some mashed sweet potato will go well with this dish.
We love hearing the side dishes that you have tried with this chicken, so if you have any suggestions, be sure to share them.
What to do with Leftovers
Any leftovers can be kept in the fridge for a few days. Alternatively, you can freeze the leftovers for up to six months.
I recommend shredding the leftover chicken and using it in another dish. The shredded chicken will be great in something like a bread roll, tacos, or even as a pizza topping.
The video below will take you through all the steps to making French onion chicken in the slow cooker. If you prefer a written recipe, then you can also find that below the video.
Slow Cooker French Onion Chicken Recipe
Ingredients
1 onion, sliced
1.5 kg (3.3 lb) chicken drumsticks
40 g (1.4 oz) French onion soup mix
1 Tbsp Worcestershire sauce
½ cup chicken stock
400 g (14.1 oz) diced tomatoes
Thickening
2 Tbsp cornstarch
2 Tbsp water
Instructions
Add the onion to the slow cooker.
Now, add the chicken drumsticks and sprinkle the French onion soup mix over the top.
Next, add the Worcestershire Sauce, chicken stock, and diced tomatoes.
Cook on low for 6 hours.
Gently remove the chicken from the slow cooker.
Mix the cornstarch with the water until it is a thick paste. Stir into the slow cooker until well combined.
Return the chicken to the slow cooker and cook on high for 15 minutes or until thickened.
Season to taste.
Serve & Enjoy.
Recipe Tips
You can use any cut of chicken in this delicious French onion chicken dish. I made use of chicken drumsticks, but thigh or breast will also work great.
The cornstarch thickener, although I recommend using it, it's not actually required. If you don't add it, then you will find that the liquid will be runny.
If you're running late, then this dish will be fine if it stays cooking on low for a few more hours. The chicken may fall off the bone when you go to remove it from the slow cooker.
Feel free to add more vegetables to this dish for a little extra flavor. It's also perfect for feeding even more people.
Note: I use a 5.5L (6 Quart) slow cooker for all the recipes that I have on this website unless specified. If you have a smaller or larger slow cooker, then you might need to adjust the ingredients.
Nutrition Information
Serving Size: 355g (12.5 oz)
Servings Per Recipe: 6
Calories Per Serving: 453
Amount Per Serving
Saturated Fat: 6.2g
Trans Fat: 0.1g
Dietary Fiber: 1g
Sugars: 1g
Cholesterol: 231mg
Sodium: 885mg
Protein: 47g
The information above is an estimate generated by an online nutrition calculator.
More Slow Cooker Recipes
There are plenty of other slow cooker chicken dishes that you should try. Below are a couple of my favorites that I highly recommend trying.
If you want a dish like this one, then you need to try the honey soy chicken. It's as good as it sounds and will cook to be absolutely amazing.
Another dish that you should give a try is the sweet n sticky orange chicken. It's incredibly delicious and goes great with some freshly cooked rice.
I hope that you enjoy this slow cooker French onion chicken recipe as much as I did. If you have some feedback related to this recipe, then please don't hesitate to leave a comment below.