This slow cooker duck a l'Orange recipe has a fantastic combination of flavors. The duck combined with the citrus sauce results in a dish that is impossible to refuse seconds.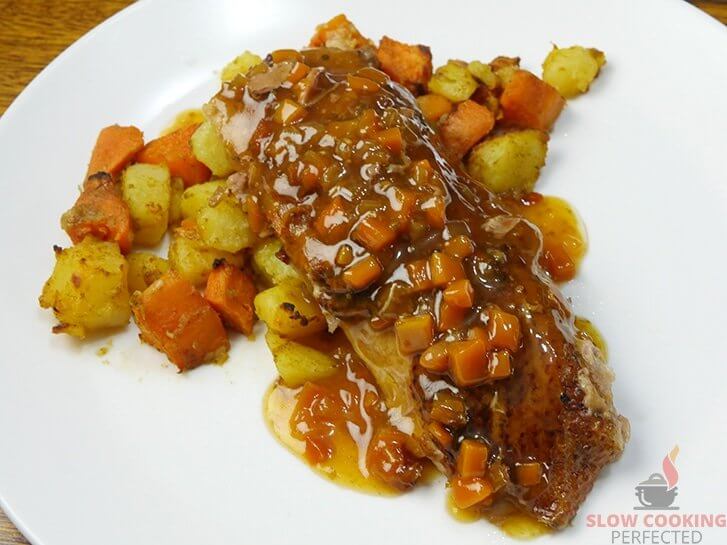 By the time the duck is ready, it will have infused with the delicious citrus sauce. The meat will be so tender it will make it hard to stop eating. It truly is a unique but delicious slow cooker meal.
Depending on your duck's size, you should get roughly eight servings out of a single batch of this recipe. I also highly recommend that you make some side dishes to go with this delicious dish.
If you somehow end up with leftovers, then make sure you keep them as they are great the next day. I love to shred the leftover duck and have it on a delicious puff pastry pizza.
Perfecting the Recipe
I use Madeira wine in this recipe, but you can substitute this for something else. Some perfect replacements include chicken stock, port wine, Marsala, sherry, or even dry vermouth.
I use a whole duck in this recipe, but you can use duck breasts or a different cut instead. You should still brown the duck as this will help reduce the amount of oil in the slow cooker and give it a lovely crispy skin.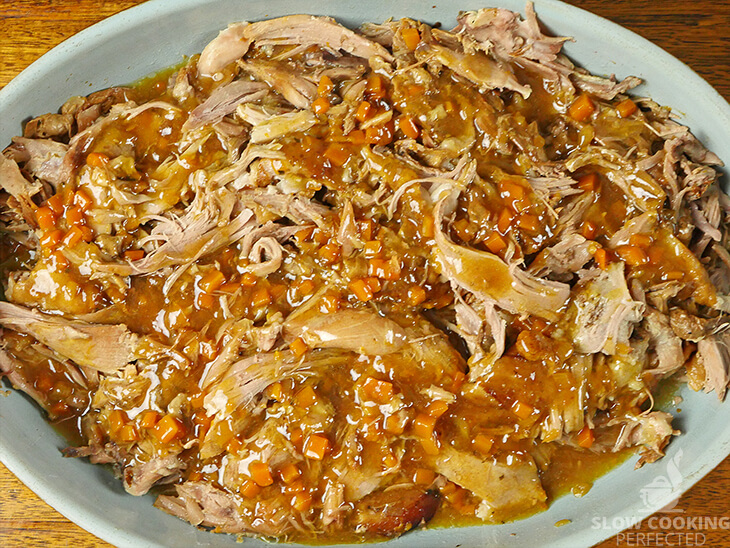 Duck is very fatty, so even after browning it, you will end up with fat in the slow cooker. Skimming the fat off the top of the liquid is very easy and will ensure your sauce is less fatty.
You must defrost poultry before adding it to the slow cooker. Even though there is a chance that you will not get sick, it is always a good practice to defrost your meat correctly.
Duck a l'Orange Serving Ideas
You may want to cook some sides to go with this delicious duck. Below are some ideas on what you can do.
I roasted some potatoes and carrot to go with the slow-cooked duck. It is a delicious combination. Alternatively, you can get another slow cooker and cook something like the scalloped potatoes.
To go along with some roasted vegetables and the duck, I love to make cauliflower cheese. You can make it in the slow cooker, or over the stove. I love to make the cauliflower cheese over the stove, as it is super easy.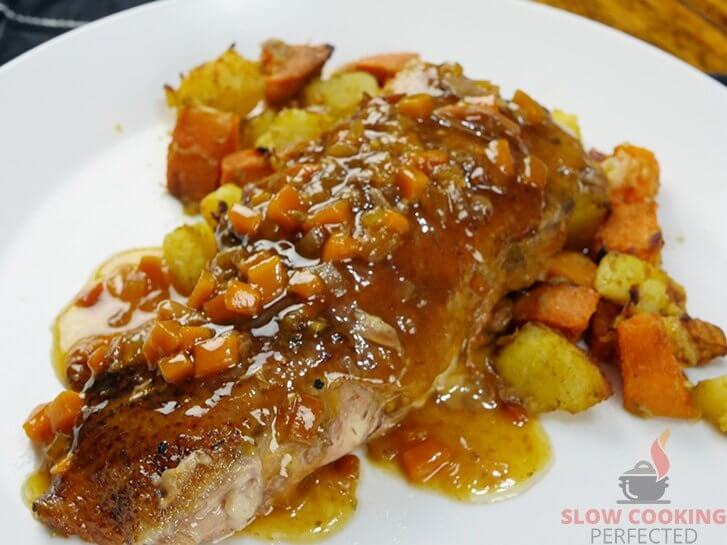 You can shred the duck meat and use it as part of a stir-fry. For example, I love to make a stir-fry consisting of broccoli, bok choy, snow peas, carrots, shredded duck, and some baby corn. I also make use of the sauce from the slow cooker.
My last idea is to serve the duck on some lovely fresh steamed rice. If you want to be a little healthier, then you can try doing some cauliflower rice instead. Both are excellent options that I highly recommend.
The video below will take you through all the steps on how to get this duck cooking in the slow cooker in no time at all. Alternatively, you can find a fantastic written recipe right underneath the video.
Slow Cooker Duck a l'Orange Recipe
Ingredients
2 kg (4.4 lb) duck, defrosted
1 Tbsp oil
1 onion, diced,
3 tsp garlic, crushed
2 carrots, cut into chunks
1 bay leaf
1 tsp marjoram
¾ cup orange juice
2 tsp orange zest
¼ cup chicken stock
¼ cup madeira wine
2 Tbsp honey
1 orange
Thickener
1 Tbsp cornstarch
1 Tbsp water
Instructions
Firstly, season the duck with salt and pepper.
In a frypan over medium heat, add the oil. Once the oil is hot, fry the duck until it is slightly browned all over.
In a slow cooker, add the onion, garlic, carrots, bay leaf, marjoram, orange juice, orange zest, chicken stock, madeira wine, and honey. Stir until well combined.
Place the duck on top and stuff the duck with the orange.
Baste the duck with the sauce.
Cook on low for 6-8 hours.
Gently remove the duck from the slow cooker and place it to the side, cover with foil to keep warm. Skim the fat off the top of the liquid.
In a bowl, combine the cornstarch and water until it forms a paste. Pour into the sauce and stir to combine.
Cook on high for 10-15 minutes or until thickened.
Serve & Enjoy.
Recipe Tips
If you are running low on time, you can skip browning the duck. However, you will lose a bit of flavor, and the texture will be different.
The duck fat is incredibly useful for roasting potatoes. You will get some amazing tasting potatoes if you roast or fry with the fat. I highly recommend giving it a try.
If you do not like carrots or onion in the sauce, simply strain it at the end of cooking. This method will give you a nice clean sauce.
Note: I use a 5.5L (6 Quart) slow cooker for all the recipes that I have on this website unless specified. If you have a smaller or larger slow cooker, then you might need to adjust the ingredients.
Nutrition Information
Serving Size: 327g (11.5 oz)
Servings Per Recipe: 6
Calories Per Serving: 578
Amount Per Serving
Saturated Fat: 12.7g
Trans Fat: 0g
Dietary Fiber: 1g
Sugars: 8g
Cholesterol: 200mg
Sodium: 208mg
Protein: 44g
The information above is an estimate generated by an online nutrition calculator.
More Slow Cooker Chicken Recipes
There are many other poultry dishes that you can do in the slow cooker, especially chicken dishes.
If you love the flavor of oranges, you should also look at making orange chicken in the slow cooker. It is as good as it sounds.
I also recommend trying the honey soy chicken as it is incredibly delicious. It features chicken drumsticks cooked in a delicious sauce that consists of honey, soy, garlic, and ginger.
I hope that you enjoy this delicious slow cooker duck a l'Orange. It is undoubtedly a dish well worth trying out if you have the time to make it. If you have some feedback that you would like to say, then feel free to leave a comment below.