To help answer some of the questions that are frequently asked I have put together a simple guide that will hopefully answer any of your queries.
Contents
Where can I join this group?
We're over at Facebook in a group called slow cooker recipe share! You're more than welcome to come join.
What is the recipe for the cover picture of the group?
The picture itself is a stock image, but for the recipe that's based on it be sure to check out the slow cooker beef meatballs.
Is it safe to cook chicken from frozen in the Slow Cooker?
No, for more information be sure to check out my guide on why this is the case. There are many factors but the increased time your food spends in the danger zone is the main reason.
How can I stop notifications?
If you're getting tons of notifications and would like them to stop, then you might want to disable notifications for the group. Some posts will still display in your news feed but you may miss out on some.
Disable notifications from the group
To disable notifications for every time a new post is approved in the group you need to go to the group and in the header select notifications, then select off.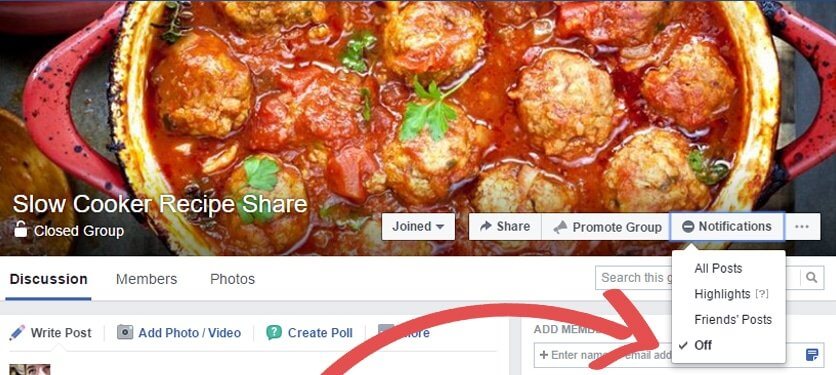 If you're on mobile select the info button at the top of the group. Scroll down to notification settings and then change this to off.
Disable notifications from a post you commented on.
Once you comment on a post you will automatically be signed up for updates on that post (Any new comments etc). This can get annoying when the post receives hundreds of comments.
You can turn notifications off by simply clicking on the down arrow in the corner of the post and select turn off notifications. This process should be roughly the same for mobile.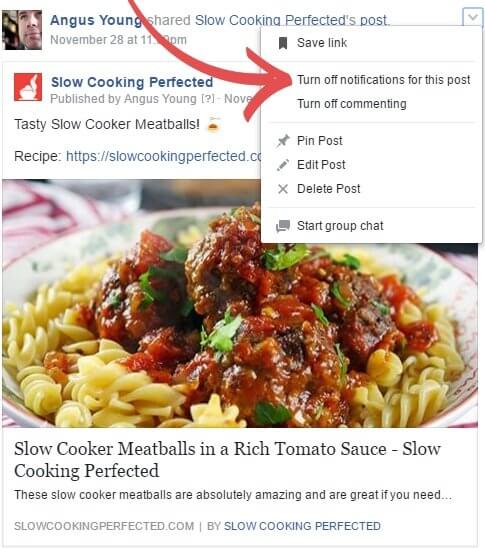 Someone is posting horrible comments!!!! HELP!
Unfortunately the mods and admins can't monitor the group 24/7 so there will be times nasty comments, spam etc. get posted to comments. By reporting the offending comment we will be able to address the issue faster.
The report option will only report the comment to Facebook rather than to the group admins. For faster action tag an admin in the comment thread you're seeing nasty comments.
There is a x next to comments if you need to report a comment.

If you're on mobile, simply tap and hold for a few seconds. It will then display a menu with an option to report.
I'm sick of scrolling, can't I just search?
Yes, there is a search field at the top of the group on both mobile and desktop. Simply type what you would like to see such as "chicken" and it will bring up all the chicken related posts.

Why did my post get deleted?
There are several reasons why your post may have been deleted or not approved.
Sometimes duplicate posts get shared to the group (Usually true with super popular pages such as Tasty etc), we will only approve the first one instead of cluttering the group with the same post.
If your post was a thank you message, then whilst these are greatly appreciated they need to be removed to stop the group becoming a huge list of thank you messages.
To avoid conflict, arguments and complaints we may not approve certain slow cooking questions. Please try to stick to cooking.
If it was a link to a group, website, or page then it didn't meet our quality standards. They're not super high standards but they do help reduce the amount of bad posts from reaching your news feed. There are also some sites/fb pages we will not approve as they're known for stealing content (photos/videos).
Posts that are clearly advertising are also not approved for obvious reasons. This includes posts that have been submitted to just promote your group or page. Spam submitting the same post will result in a ban.
I have been blocked or banned, why?
You have broken the rules by either attempting to post disallowed content to the group or because you made comments that detract from the group. Bans will not be removed since they are only given as a last resort.
Where can I pick up a Slow Cooker?
Basically any good retail outlet is likely to sell slow cookers, if you're after the best bang for your buck then Amazon is likely to be your best bet. They have user reviews so you can quickly see if a slow cooker is good or not.
If you're trying to decide between a slow cooker and crockpot then this handy guide will take you through the main things you should be aware of.
I'm just getting started, any Slow Cooker Tips?
Slow cooking is one of the easiest methods of cooking, my best advice is not to overthink and try to avoid cakey dishes as they usually are very hit and miss. This slow cooker tip guide has a ton of tips that should help you get the most out of the slow cooker.
Can I become a moderator?
Note: We're currently not accepting any new moderators.
As the group grows it becomes harder and harder to moderate so I'm open to allowing people to become moderators. If you wish to request to become a mod, then please send an admin a message. If you have my email then you can send me an email but I may take awhile to respond.
Note: Unless you have a good posting history then you're likely to be denied.
I'm a food blogger, why did my post get rejected…. it's slow cooking?
We no longer accept most food blogger submissions. There may be some exceptions to this rule but we're not a group where you can spam your recipes for clicks. Please go to a recipe sharing website such as foodgawker or food that makes you drool.
If you spam your links in comments then you will be banned, please avoid doing this. This group is not for your advertising needs.
I'm a food blogger, where else can I share my food photos?
Unfortunately, we only approve tasty slow cooker recipes. Check out something like Foodgawker to have your recipes shared with a larger community.