Back to Recipe
Print Recipe
Slow Cooker Pepper Steak Recipe
---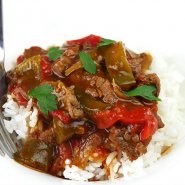 Prep time: 30 Minutes
Cook time: 8 Hours
Total time: 8 Hours & 30 Minutes
Serves: 6
Ingredients
1 kg (2.2 lb) beef, cut into strips
1 red bell pepper, thick slices
1 green bell pepper, thick slices
1 onion, chopped, thick slices
Sauce
1 beef bouillon cube
¼ cup light soy sauce
1 tsp ginger, minced
1 tsp garlic, crushed
¼ tsp black pepper
400 g (14.1 oz) crushed tomatoes
2 tsp brown sugar
¼ cup boiling water
To Thicken:
1 Tbsp cornstarch
1 Tbsp water
---
Instructions
In a frypan over high heat, quickly brown the beef strips.
In a small bowl, combine the boiling water and the beef bouillon cube. Stir until completely dissolved.
Next, in the slow cooker, add the beef, bell peppers, onion, beef bouillon mix, soy sauce, ginger, garlic, black pepper, crushed tomatoes, and the brown sugar, mix slightly together.
Cook on low for 6-8 hours or until beef is deliciously tender.
To thicken, mix the cornstarch and the water until it forms a paste. Mix this into the slow cooker, cook for 15 minutes or until thickened.
Serve & Enjoy.
---
Recipe Tips
Between the beef bouillon and the soy sauce, you should have more than enough salt in this dish. With that said, you might find the need to adjust the seasoning at the end of cooking.
As with any beef dish for the slow cooker I highly recommend using a tough cut of meat for the best results as we will be cooking it for a long time.
If you like your bell peppers to be slightly crisp, then don't add them at the start of cooking. At about, the 4-5 hour mark should be an excellent time to add them.
Browning the meat can be skipped if you're running low on time or you don't have access to anything that you can use to brown meat. (eg. a usable stove)
Did you make this recipe?
We want to see! Tag
@slowcookingperfected
on Instagram or use the hashtag
#slowcookingperfected
so we can find you!
---