Back to Recipe
Print Recipe
Slow Cooker Rice Pudding Recipe
---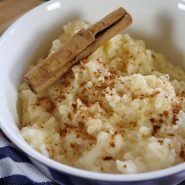 Prep time: 10 Minutes
Cook time: 2 Hours & 30 Minutes
Total time: 2 Hours & 40 Minutes
Serves: 4
Ingredients
¾ cup long-grain white rice
4 cups milk
½ cup sugar
1 cinnamon stick
1 tsp vanilla extract
40 g (1.4 oz) unsalted butter
---
Instructions
Firstly, rinse the rice under cold water.
In the slow cooker, add all the ingredients and mix until sugar is dissolved.
Cook on high for 2 & ½ to 3 hours or until the rice is cooked and the liquid is creamy.
Serve & Enjoy.
---
Recipe Tips
The duration you cook this pudding may vary depending on the slow cooker you are using. The high setting may be slightly different from the one I used for this recipe. If you are unsure, keep an eye on it for the first ten minutes and make sure it maintains a light simmer and not a boil.
If you love your rice puddings to be creamy, then you can try substituting two cups of milk with cream instead. This extra cream will result in a much creamier texture but be a slightly bit unhealthier.
Rinsing the rice under water helps remove a lot of the excess starch, rids of foreign matter and also just helps for a lovely tasting rice pudding. You will also notice the rice will not clump as much if you rinse it first.
If you do not have any cinnamon sticks, you can replace them with ground cinnamon instead. One teaspoon should be more than enough.
Did you make this recipe?
We want to see! Tag
@slowcookingperfected
on Instagram or use the hashtag
#slowcookingperfected
so we can find you!
---