Back to Recipe
Print Recipe
Slow Cooker Christmas Pudding
---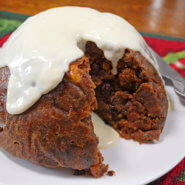 Prep time: 30 Minutes
Cook time: 10 Hours
Total time: 10 Hours & 30 Minutes
Serves: 8
Ingredients
500 g (1.1 lb) mixed dried fruit
100 g (3.5 oz) glace fruit, chopped
100 g (3.5 oz) dried figs, chopped
100 g (3.5 oz) fruit medley
165 g (5.8 oz) brown sugar
4 eggs, beaten
1 Tbsp coffee essence
1 tsp vanilla essence
1 Tbsp molasses
1 Tbsp marmalade
½ cup sweet sherry
¼ cup orange juice
250 g (8.8 oz) unsalted butter, melted
1 tsp cloves, ground
1 tsp nutmeg, ground
1 tsp cinnamon, ground
1 tsp mixed spice
100 g (3.5 oz) ground almonds
200 g (7.1 oz) plain flour
75 g (2.6 oz) self-rising flour
---
Instructions
Grease a pudding steamer with a tiny bit of melted butter and line with baking paper.
In a large bowl, add the fruit and mix.
Next, add the brown sugar, eggs, coffee essence, vanilla essence, molasses, marmalade, sherry, orange juice. Stir until combined.
Now, gently stir in the butter, cloves, nutmeg, cinnamon, mixed spice, ground almonds, plain flour, and the self-rising flour. Mix until well combined, try not to over beat the mixture.
Spoon the mixture into the pudding steamer and seal with the lid.
Place the pudding steamer into the slow cooker and fill slightly with water. Roughly 5cm (2 in).
Cook on low for 8-10 hours or until a skewer comes out clean.
Serve & Enjoy.
---
Recipe Tips
You should allow the pudding to cool before wrapping it in plastic wrap and placing it in an airtight container. You can refrigerate the pudding for up to six weeks.
Don't be afraid to check on the pudding if you're worried about it being overcooked.
All slow cookers are different, so the cooking time may vary massively. If you need the pudding cooked faster, then place the slow cooker on high and reduce the cooking time by half.
To make this recipe gluten-free, use gluten-free plain flour and self-raising flour. Both of these should be available at your local supermarket.
Ground almonds are also known as almond meal or almond flour. Any of these will work fine in this recipe.
Did you make this recipe?
We want to see! Tag
@slowcookingperfected
on Instagram or use the hashtag
#slowcookingperfected
so we can find you!
---